Investor Relations at Amadeus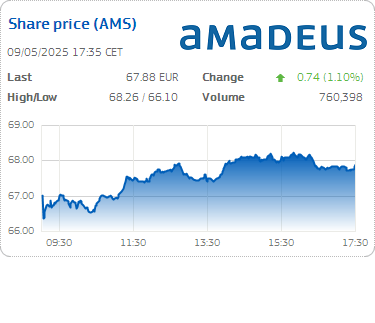 The mission of our IR function at Amadeus is to create an open dialogue with our investors and analysts, and to build long-term relationships based on credibility and trust. We aim to communicate effectively and proactively, providing you with what you need in a consistent and timely manner.
At Amadeus, we aim to provide detailed and reliable information to help the financial community understand our business and evaluate Amadeus as an investment opportunity, both in the equity and credit markets. In our website, you will find up-to-date information on our financial and operating performance, as well as details and statistics concerning our shares and share capital. The site also includes a summary of our financial strategy and debt facilities. If you require any further information, please contact us.
IMPORTANT ANNOUNCEMENT
The Board of Directors of the Company, in the meeting held on February 27, 2018, agreed "to modify the current corporate webpage of the Company from www.amadeus.com to www.corporate.amadeus.com, as per article 11 bis of the Spanish Capital Company Act", which is made public for the purpose of said article, once the decision to amend the website has been published in the Official Journal of the Mercantile Registry on April 4, 2018.